THE MIDI RING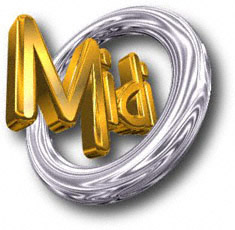 ___Greetings! Thank you for taking the time to visit the Midi Ring. Since it's beginning in May of 1996, the Midi Ring has provided a service which facilitates easy access and exposure to a large collection of home pages and music sites that strive to bring midi music, information, utilities and functional graphic design to the internet world.
___The Midi Ring is administered by Ubik Music Productions. Ali Lexa of UBIK Music is in charge of maintaining and admitting sites to the Midi Ring. Questions about submission or site status should be directed to him.
Enjoy!_______
The MIDI Ring Team
---
NOW TAKE THE MIDI RING OUT FOR A SPIN!
---
The MIDI Ring Team:
---
In the past six months a disgruntled individual began harrasing me relentelessly about the MIDI Ring.
His emails and recent attempts to "steal" the MIDI Ring from me have been extremely aggressive and hostile.
I suggested this individual create his own web ring (anyone can) and cease the harrasment.
Apparently he has created a ring, however he continues to attack me relentlessly, without just cause.
I have asked him repeatedly to cease this cyber-bullying, yet it seems harrasing me has now become the focus of his life.

If you are contacted by this person about the MIDI Ring please do not encourage his horrible, un-called for behaviour.
-A Lexa Manager of the MIDI Ring 1996

Cyber-bullying can be as simple as continuing to send e-mail to someone who has said they want no further contact with the sender, but it may also include threats, sexual remarks, pejorative labels (i.e., hate speech), ganging up on victims by making them the subject of ridicule.


Notice: All the graphics on this site, the MIDI Ring logo and all animated .GIF files are copyright ©1996, 1997& 1998 Dave Schmid/The Music shoppe and © 1997, 1998, 1999, 2000 & 2011 Ali Lexa/Ubik Music Productions. Permission to use or display ANY of these images is strictly granted ONLY to active members of this, "The MIDI Ring", or to those who have secured permission in writing from us.

Any unauthorized display or use is prohibited by law.
The MIDI Ring is a navigational tool and is not responsible in any way for the content found on it's members' sites.
Any issues regarding the content of any site should be taken up with the respective owner of the site in question.
Any questions about submitting sites to the Midi Ring should be directed to Ali Lexa alexa [@] ubikmusic.com.
Original WebRing concept by Sage Weil.

| | |
| --- | --- |
| Last Update - 01 July 2011 | |